As promised in yesterday Best Worst Video Game Ornaments heres a list of decorations for your tree that most likely wont make you cringe! Yet again…no particular order ;)
Mini NES Console and Controllers Ornament


This itty bitty clay pile of cuteness made by Etsy seller TheClayCollection specializes in SUPER tiny detailed creations. Their NES ornament is great because its incredibly accurately detailed and has just the right touch of holiday flare. Sadly this specific one sold out, but if you look at the seller's store they have other itty bitty gaming ornaments and jewelry including the tiniest Playstation boxes youve ever seen.
Hallmark Pac-Man Arcade Ornament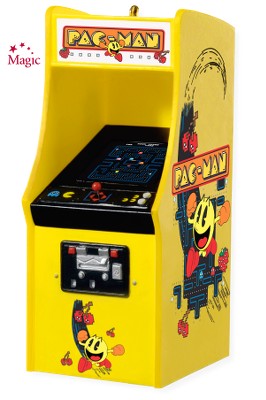 ITS A MINI ARCADE CABINET!!! It lights up and plays sounds from the original arcade game!!! Do I even need to explain why this is so awesome?!
Circuitboard Heart Ornament Set


For the PC gamer in your life who is a romantic at heart these are simple but cute matching ornaments. They also come in more traditional Christmas shapes like tree, star and bell.
Bub and Bob from Bubble Bobble


Ok so first of all these arent technically ornaments…but you could easily slip a hook on the top of them. These are needle felted creations by Etsy seller PoorLulu. She has many other adorable felted retro gaming creations like Toad, Yoshi, and Mario. Dont look a the Princess Peach tho…something went terribly wrong there….but its not her fault because needle felting delicate details like Princess Peach has is SUUUUUPER hard. Still the rest are spot on and super adorable.
Mario Star Christmas Hanger


Simple, classic and cute. Yet another Etsy seller, Spugmeistress creates cute 8-bit creations using hama beads (we all made something with those when we were a kid!). I love this Mario Star because its a classic Christmas shape but still video game relates….plus it glows in the dark!!
So what have we learned with these two posts? First of all Etsy > Cafepress….I think thats plainly obvious. Second, when it comes to video game decorations, keep them simple, iconic and retro. Don't try to force it with some "hip gamer slang" because then it just comes off fake….stick with icons as they already exist….they are iconic for a reason ;)